T
his weekend my most recent play had its final three performances. It was called
Retro Radio
, and was quite a fun show. Our director had put together four old time radio shows from the 1930s and 40s and made them in a readers theatre performance.
The Lone Ranger
,
The Bickersons
,
The Shadow
, and
Abbott and Costello.
I
was cast as a singer (along with two other cast members). I sang jingles our director had written for local businesses to the tune if nursery rhymes. It was really quite clever of our director. Then before intermission I sang "De-Lovely" by Cole Porter. Now, when I'm at home or in my car, I belt it out. And I don't sound too shabby. At least I don't think so. In my mind, I'm on the cast of Smash waiting for my cue in a Broadway show. The moment I get in front of people though, it's a different story. Practicing with a voice teacher or our music director at church is one thing. Performing is another. I can do it, but it takes a lot of practice. So before each performance, I would try to channel my favorite divas.
Bernadette Peters
Kristin Chenoweth
Idina Menzel
Barbra Streisand
Lea Michele
I
didn't do too bad. I got many compliments in the receiving line each night. Win.
H
owever... Friday night, instead of Lea Michelle, another celebrity possessed me.
E
arlier that evening I was working our youth group garage sale and as I was heading out the teenagers and I were discussing how I should "break a leg" but not literally... s
ince I have the whole brittle bones thing going on
.
D
uring most of the play, I'm sitting in front of the stage on a bench, as though I were a radio cast member outside of the studio waiting to go on. When it's close to my part I sneak across the room to enter the stage. My heels were far too loud so I would take them off then put them back on before entering.
T
hen... suddenly... my foot caught on the wood... and well...
I
nstead of Lea Michele I became Jennifer Lawrence.
E
xcept I wasn't nearly as graceful and didn't look quite as pretty. Instead of an award and a standing ovation, my shoes flew across the room with a loud thump.
I
did however get a lot of worried looks from my cast mates and whispers of "Are you okay?"
S
ince I'm breakable... I'm not allowed to fall. Especially not in the middle of a play. It's hard to find a replacement singer on that short notice.
S
peaking of breakable, has anyone seen
Oz: The Great and Powerful
yet? I saw it yesterday and SQUEE Oz and the little China doll are kind of the most adorable thing I've ever seen in my life.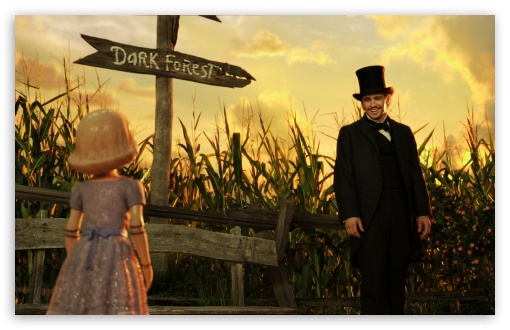 S
orry, back to my story.
I
also got a lot of concerned audience members mentioning my fall in the receiving line.
T
he teenagers had a good laugh about it too the next morning when I told them the story at our garage sale.
T
hat's honestly most of my job. Finding ways to entertain the teenagers. It's a good thing my clumsiness make this easy for me. You'd think this would have happened when I was wearing my heels.
I
t takes talent to trip and fall in bare feet yo.
T
he next night I was determined to not make an idiot of myself. You didn't see Bernadette Peters falling on a Broadway stage now did you?
O
f course not. And if you did, you know she would have gotten back up on that stage and been just as brilliant as ever. So that was my plan.
B
efore I went up one of the cast members whispered to me "Be careful." I smiled and nodded and sure enough...
I
t almost happened again. I tripped but didn't actually fall.
WHAT WAS WRONG WITH ME?????
Y
ou know, it would have been much more bearable if Hugh Jackman had been there to offer to help me up like he did for Jennifer.
W
olverine where are you when I need you????
Sigh.
T
his is the point in the blog where I would talk about how when you fall you need to get back up again or something awesome moral to the story.
B
ut I don't have one of those. When I was chatting with my cast members afterwards backstage I determined it would make a good story for the blog. Because what blog is complete with out an embarrassing story? Right? Right.
H
ere's hoping you feel better about your life. I'm sure you didn't fall... twice... in front of an audience in one weekend.
Photo taken by Lisa Gerlach
I
know... I put off a great impression of being one classy and graceful lady.