My severe case of writers block isn't getting any better.
I honestly don't know what's going on with my brain.
This morning I texted a few of my friends with a cry for help to give me some ideas. Thankfully, they answered! They were all fantastic ideas. Reviews, going out somewhere in the city, visitng somewhere new, trying out new products, starting a new series, comparing going to a coffee shop and drinking home brewed coffee, etc.
However, one friend hit it right on the nose.
Take a break.
Sometimes, you need to step away for a bit and then come back to it. I think that's exactly what I need.
Not a long break, so don't worry! It'll just be a bit over a week. I'll keep reading blogs and responding to emails and living on social media as usual, I just won't be writing on the blog. In the meantime, I'll keep a log of all of the ideas I come up with to write about. I hate posting just for the sake of posting because that means I'll be giving the readers (you know... all five of you lol) bad content. That's not fair to you and it's a bad impression of me. I want to be real and honest with you of course, but I also want to write and create content that is of a good quality.
This way, I also can really flesh out some good ideas. In the next several weeks I'll be sponsoring some pretty big blogs and hopefully that will be driving some traffic over here. I want to be able to have some of my best writing ready to go.
Who knows? Maybe while on my break I'll have a brilliant idea and come out of my week hiatus early.
In the meantime, I would love to share with you all some of my favorite bloggers for you to read while I'm taking a break.
Vodka and Soda
: Kat is one of my newer blog friends and I LOVE her! She's a mom in Canada and she is completely hilarious. She blogs about fitness, crazy stories abour her family, and why she's bad Chineese person.
A Quick Succession of Busy Nothings:
Kirstie is one of my long time blog friends from Australia. (We met in real life while in Orlando last year and she's fantastic!) She's a fellow book nerd, travels everywhere, and her Movie Mondays series is one of my "must-reads" every week.
Adventures in Adulthood
: Leah took a break from blogging for a bit, but she's back! She's always 100% honest, hilarious, and she's one of my closest friends.
Karly Kim
: Good Enough to Read: Karly is another newer blog friend and we have declared recently that we are actually soul mates. I mean, she lives in NYC, tells the best stories, AND has a dog named Hufflepuff. I mean... clearly we are meant to be.
Late to the Party:
Lor is another long-time blog friend whom I met in Orlando last year. She's completely fantastic and has a panda GIF on her last blog post. If that's not enough reason to read her blog, I don't know what is.
Sweeny Says
: Sweeny is another blog friend, but unfortunatley we haven't met in real life. Which is really tragic considering we lived in the same state for forever until I decided to come back up to Chicago. Ooops. But anyways, I've been able to relate to her blog posts recently because she also has been trying to get her life together. Yay for girls in their late 20s not knowing what to do with their lives!
The Snark Squad:
This site was founded by Lor and Sweeny, and it began with taking things from the 90s that we loved (Babysitters Club, Sweet Valley High, etc.) and tearing them to shreds. Now, their group of writers has expanded (one of them is Kirstie!) and they cover a ton of TV shows, books, and movies. Including Supernatural, Buffy the Vampire Slayer, Firefly, Pretty Little Liars, 50 Shades of Grey, etc. They are completely hilarious.
Lazy Happy Bored Happy Sad...:
Willie and I became friends during VEDA and I LOVE HER! Recently she's been doing Disney Wednesdays where she watches a Disney movie and reviews it. And you know me and Disney...
Sarcastic Contemplation
: I'm not going to lie, I'm not entirely sure how Ashlea and I became friends. I think it was some combination of Twitter/mutual internet friends/Snark Squad. Anyways, she just started a blog recently and she should get a lot more readers!
OK, that should be enough reading material for you all to sort through and entertain yourselves with for the next week or so while I'm on break.
See you on Monday, January 27!
So if you all complain about my lack of posting, just remember...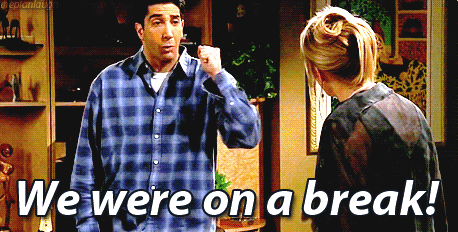 Sorry... I just really wanted to use that GIF.
But we're still on a break.