Dear Glee,
It all started back in 2009. I was talking to my friend Laura and our conversation went something like this:
"Have you watched that show Glee yet?"
"No, I've thought about it, but I haven't yet."
"You really should. This show is basically you."
Of course, she was right. You were a TV show that I instantly understood and fell in love with. If someone were to watch you and think I would hate it, they probably haven't met me. A perky group of misfits, dramatic love stories, overcoming obstacles, random humor and ridiculous one-liners, AND it's a musical TV show?
Clearly, you really are the definition of me.
I know it's not cool to like you anymore. Especially since I'm 27 years old. I hear the criticisms people have of you and I understand. Heck, they are valid and people bring up good points. But I don't care. I still love you. Here are 10 reasons why.
1) I love how you make fun of yours
elf. You understand how completely ridiculous you are and use it. I love how Sue always takes what everyone is thinking about the show and makes it into some hilarious one-liner. I love when the characters take their crazy habits and make them into jokes.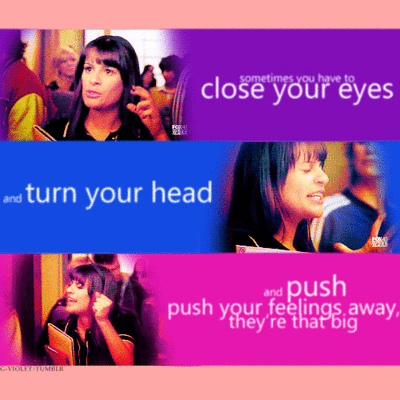 2) I love how you give me things that I never knew I wanted. Like a kid in a wheelchair swinging on a vine while singing Katy Perry. I never knew I wanted that image in my life - but now I'm so glad it is.
Or Sam dressed as a shirtless bug.
Or Santana doing advertisements about yeast infections.
3) You introduced Darren Criss to the world - and then put him in a superhero costume.
I already knew who he was and fell in love at least a year before he was on the Glee cast. However, now everyone knows about how great he is and I can now watch him every single Thursday.
4) In less than a minute, you can take characters I really don't care anything about and suddenly I have all of the feels for their situations.
I'm looking at you Unique and that darn rendition of "If I Was A Boy" you sang on Thursday.
I'm also looking at you Marley and Jake. You were always cute, but I didn't realize that I really wanted you together until Jake messed it up this season.
Really Jake? Really? Why did you have to cheat on her? I mean... come on!
5)
Some people like certain songs, and once they're on Glee they suddenly hate them. Not so with me. (Usually.)
There are times when I have no idea what song the cast is singing and I'm all "this is kinda good"
and then I realize it's a Miley Cyrus song. Now.... I really want to listen to it. I have what should be an embarrassing amount of Glee covers on my iPod that I am not embarrassed about at all.
6) I love how Twitter explodes when Kurt takes off his shirt for the first time in five seasons.
Especially when he started out like this: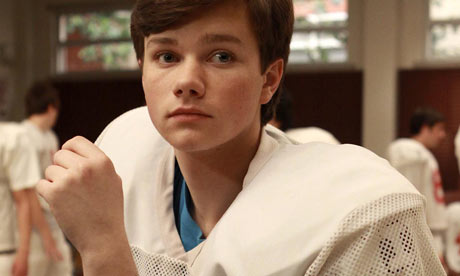 How our little Porcelain has grown up.
7) I still think Rachel Berry is the actual best. I know she's annoying and obnoxious and awful. But I love her.
8) While some of the musical numbers aren't what they used to be, I love how every once in awhile you do surprise me with what you do with the songs. Even when they are repeated from previous seasons.
Teenage Dream acoustic from season 4 anyone?
Side note: does anyone else randomly find themselves jealous of a gay couple? Cause... this show does that to me sometimes. Sorry, not sorry.
9) Sue Sylvester. Enough said.
10) How I feel everything all of the time while watching. It's where I can unload my emotions, sing songs, and completely buy into cheesy plot lines. I don't even always agree with the direction the episodes go or how they tackle certain issues, but I always have some sort of reaction and feeling.
Side note: The Finn episode was perfect timing. I was having a crazy emotional week and I was able to channel all of my feels into watching that one.
Finn... I miss you. SO MUCH.
So yes, Glee. I know you only have a season and a half left (which, I applaud you for making that decision because it's good to know when to end and how to end well). I know most people probably judge me for loving you so much. But there it is.
Sorry, not sorry everyone else.
And... here's another Darren Criss photo just for good measure.
<3 p="">
Emily
Another side note to my readers: I apologize for all of the fan-girling over Darren Criss lately. (But only slightly sorry.) I'm kinda basing my main male character for NaNoWriMo on him so I've had a ton of photos of him up on my laptop this month. I'm sure by December I'll calm down. (Maybe. Hopefully.)
3>