So... this is a direct contradiction to the results of my survey. (Which can be found by
clicking here
.) Many of you have been saying that you don't want link-ups. Which makes sense. Too many link ups with other blogs are annoying and I do try to keep them to a minimum.
However...
This one I couldn't resist.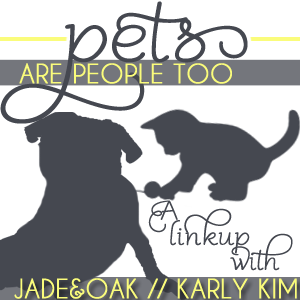 A link-up to talk about your dog???? Um.... YES PLEASE!
But seriously guys, if you had a dog like this one you would want any excuse to talk about him too.
Just look at that face. How could you look at that face and not fall in love? Seriously.
My long-time readers know that I love my dog Bandit. He's the best dog a girl can have. However, I haven't shared his story with all of you..
A few years ago I had moved into a pet-friendly duplex. I was so excited about this because for the past year I hadn't had a pet and I missed having one. I grew up with the sweetest bichon frise and I missed having a dog. My sister who was living with me at the time had a cat, but it just wasn't the same.
Then, at the end of January, my sister found a small dog on petfinder.com.
His name was Bandit and was at a shelter in a town about an hour away. A few weeks prior, the owner of the shelter had been contacted by a woman in the town asking her to come save her dog. It was sick and needed help. So the shelter owner went to the woman's house. She couldn't believe what she found. There were two small dogs living in cardboard boxes in this woman's backyard. There was snow on the ground, they had fleas all over their bodies, and were severely malnourished. Miraculously, beyond needing to get de-wormed, fed, and the fleas taken care of, the dogs didn't need anything else. Bandit was the one in the worst shape. He even had bare spots in his fur and tail from the fleas. The house was also a meth lab.
She went back to the home and tried to help the poor dogs. After a few weeks of convincing, she had finally been able to get the dog owner to let her take Bandit to her shelter. There, she was able to get him even better food. He even was able to get his vaccinations.
She described Bandit as being a happy, brave, and friendly dog. He loved to play with the others and needed a good home.
I knew I had to take him home with me.
Immediately I contacted the shelter and told her I was interested in the dog. After she checked up on my references, we set up a day and time for me to come by and check him out.
Bandit was amazing. He ran around with the other big dogs at the shelter like he was just as big as they were. (He couldn't have been more than 5lbs at the time and played with big black labs!) When my sister and I petted and held him he didn't shy away and ate it up. He was happy and healthy. All he needed was love, a good home, and just a bit more nourishment and care for his fur coat.
It was love at first sight my friends.
What's awesome though is that nearly everyone who has met Bandit has loved him. Seriously. There has been maybe one person who has told me they didn't like him - and they aren't animal fans in the first place so it doesn't count. All he ever wants is to be held, petted, and loved.
In all honesty, I'm pretty sure he's more popular and well known in my small town than I am. My neighbors are always saying how adorable he is and how they can't help but smile when I take him for walks.
It's been about four years since then and I've never looked back.
What about your animals? Any cool stories?