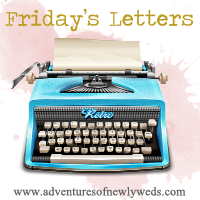 I
've never linked up with
Adventures of Newlyweds
for "Fridays Letters," but I see a ton of people every week linking up. While I've had posts scheduled and up this week, I haven't actually written a blog yet this week. So... why not?
Dear Camp SonRise Counselors -
your maturity and just plain awesomeness amazes me every year. Most people would probably think that we are crazy for putting a bunch of high school students in charge of kids for 5 days, but you ALWAYS step up to the challenge. I loved seeing how you interacted with the kids and being able to step up to the challenge.
Dear Mom, Jen, and Laura-
thanks for the awesome birthday conversations yesterday! They made me smile and helped make the day bright. Even when I don't have any plans for the day, I don't mind as long as I can connect with people I know and love and understand everything.
Dear Office Staff-
the food we have been eating for the last 2 days has been AMAZING. Soooo yummy. Are you trying to make me fat? Haha.
Dear Toni and Paula-
thanks for encouraging me yesterday when I was starting to feel down about "going on 30." You reminded me that I have a TON of time to do everything that I want to do in life.
Dear Angie and Alexandra-
it's only day 6 and already you have been the best blog sponsors ever! Thanks for dealing with all of my crazy!
Dear Bri and G -
you are such awesome friends! I'm so glad we live somewhat close because we can hang out and you're willing to help out when I'm in a crazy bind.
Dear Tyler and Erin-
YAY TINY TIMM!!!!!! (After all of those short jokes Ty, I deserve at least that one!) I am so excited that you are going to have a baby. You're going to be such amazing parents. I'm totally going to stock up on baby
Star Wars
and
Firefly
gear now.
Dear Leah and Jen (again) -
thanks for helping to convince me to buy a Tardis. Best birthday present to myself EVER.
Dear Leslie-
I am probably far more excited than I should be for our movie date tomorrow. But we never get to hang out anymore! It'll be fun to catch up.
Dear Holly and AJ-
you are seriously such an AMAZING directing team for this play and been so awesome with my crazy summer. When August comes around I'll make it up to you, and in the meantime I'll be working on line memorization.
Dear Robyn-
thank you so much for thinking of me and inviting me to the pool party! While I'm still kind of the "new kid in town" it's nice to know that someone thinks of me.
Dear Kirstie-
I love that you live in the future because you were the first to wish me a happy birthday. LOVE YOU! Come move to America now please. Thanks.
Dear Lizzie Bennet-
I just discovered The Lizzie Bennet Diaries on YouTube last night. Thank you! I stayed up far too late watching them, but it was awesome.
Dear Everyone-
thank you for reading and for all of the birthday messages yesterday!!!!!!! I felt SO LOVED!!!!!!!!!!! And I feel loved every time I see people are reading the blog and such. "You love me! You REALLY love me!"