O
ne of my newest blog friends nominated me!
T
hanks so much Brittany! You can check out her blog at
This Beautiful Life
.
M
y goodness there are a lot of awards floating around the blog world.
H
owever, I don't really mind. It shows how supportive the blog world is and it helps you to get your name out there, but also other bloggers too.
S
o, here we go.
1)
Nominate up to 15 fellow bloggers who are relatively new to blogging.
2)
Let your nominated bloggers know that they have been nominated for this award.
3)
Share seven random facts about yourself.
4)
Thank the blogger who nominated you in a blog post linking them back to their blog.
5)
Add the Versatile Blogger picture to your post.
I
've been skipping out on this part of awards lately... but since I haven't given you random facts about me in awhile I'll actually obey the award rules this time.
I really can't wait until this whole "moving to a new apartment thing" is over. While in the long run it'll save me money and I know it's a good thing, in the meantime it is stressful and expensive. Let's just move onto the fun part where I get to decorate the new place and relax.
I'm going to Michigan in 12 days! One of my closest friends from college is getting married, and I'm carpooling with two of my other friends from college (myself and one of the other girls are both bridesmaids in the wedding) and it's going to be so much fun. One friend I talk to all of the time but she lives far away so I don't get to see her often. The other friend actually lives somewhat close to me, but we don't talk a whole lot - so it'll be fun to catch up.
Right now I'm really excited because I'm starting up a new project. I can't say anything about it yet, but I think it's going to be awesome. I get to work with an old Love Drop friend and we're going to be doing some planning for it this weekend. Although I will need some help- people who are familiar with Word Press, graphic design, marketing, etc. HIT ME UP!
I also have another idea rolling about in my head that I might be asking some of you wonderful ladies about. Some of you I've already discussed it with, but I want to get more brainstorming and feedback on it. Again... I can't share a whole lot with you all yet. Sorry. :(
What I'm NOT excited about is filling out my staff evaluation. It was due yesterday morning. I just hate filling this thing out.
I'm outrageously addicted to The Vampire Diaries right now. I've been watching season three on Netflix NON STOP all week. It's making me super emotional. All of the characters, all of the feels. Stephen. Damen. Elana. Caroline. Tyler. Elijah. And most recently - Klaus you make my heart break! You were supposed to be the evil one! Stop playing with my emotions!!!! Just - UGH. Why do I get so emotionally involved in the lives of fictional characters?
One of my BEST FRIENDS whom I have know my entire life is coming down to Cape to see the play I'm in. She's never been down here and I CAN'T WAIT to show her my apartment (even though 1/2 of it is packed in boxes) and everything here. Oh yeah... and her hubby is coming too.
I
didn't do 15, but the rules said up to 15. Which means I could have nominated just one. But here are some lovely ladies that I would LOVE for you to meet! Some I know in real life, some over the internet, but all are wonderful. All of them are either new or don't have a HUGE reader base (as in less than 100 followers) and totally deserve to have more.
Alexandra of This Journey of Journies
- She is a college freshman this year, a former sponsor of mine, a singer, and a wonderful friend!
Michelle of Pretties and Things
- Michelle is a member of my church and is part of my small group. She is a young mother and such a wonderful person! I love going over to her house for Bible Study.
Aren't they a cute family?
Sandy of Just Sandy
- Sandy is another "newer" blog friend and I just love her! She has a great voice, an adorable family, and I simply can't get enough of this girl.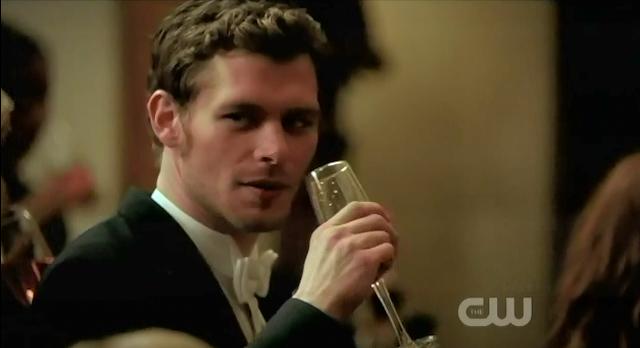 Seriously, Klaus, stop messing with my emotions. It's not cool.
And, source.