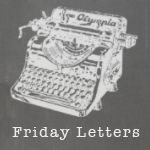 Dear Starbucks, thank you for Pumpkin Spice Lattes and Salted Caramel Mochas. Whoever invented them needs to get a medal.
Dear Leslie, thanks for lunch last week. I needed it. I miss our girl time.
Dear Ginny, feel free to steal my internet anytime you want. It's nice to have someone around more often. I"m so glad you're back!
Dear Charter, why do you hate me? Seriously. Glee is my favorite show and you just HAD to have issues with my connection during the season premiere. WHY WHY WHY? I can't wait until I don't have to use you anymore.
Dear National Youth Gathering, thank you for FINALLY getting me the pre-registration materials. They were crazy late, but at least they are here now.
Dear Apartment People, I know I've gone back and forth like crazy about my living situation. But you've been patient and understanding - I'm so blessed! Thank you! (And yes, blog friends, there WILL be another update on this soon. 'Cause plans have changed... again.)
Dear Partners in Ministry Group, While 1/2 of our little group has left over the summer, it was great to see new faces yesterday and it was so fun to be able to get together again! Here's to another year of supporting each other in ministry!
Dear SEMO Fair, I'm glad you'll be gone tomorrow. Life is far too complicated when you're in town.
Dear Cast and Directors of The Smell of the Kill, we're gonna ROCK THIS PLAY tonight! It has been so much fun working with all of you and how we've become like a little family. We get on each others nerves and get frustrated, but in the end we still love each other.