Happy Tuesday everyone! When thinking about my all-time favorite characters, it's always more difficult than I realize. At first I think "it's going to be so hard to narrow them down! I love so many!" But when I start sorting through the books I've read it's actually the opposite. As much as I love most of the characters I read about, I end up thinking more of "Yes, they're wonderful. But when I compare them to some of the others I've picked, do they
really
live up to that?" It's hard.
Today I'm sharing with you ten of my favorite heroines. These women are fantastic in every way and I love them so much. I made some tough cuts for this list - so it really is a tribute to the authors of these characters for creating such fantastic heronies.
Celeanea Sardothian-
Throne of Glass
Series by Sarah J Maas
Celeanea has quickly become one of my all time favorite characters. I can't get enough of her and her story. I binge read the Throne of Glass series recently and I'm practically forcing my friends to all read the books too so they can feel what I've been feeling reading these books. I am team Celeana 100%. She's bad-ass, feminine, strong, and I love her. Anyone who hears me talk about this girl can tell I'm way too emotionally attached for it to be healthy.
Katniss Everdeen-
Hunger Games
Trilogy by Suzanne Collins
http://martadewinter.deviantart.com/art/Katniss-Everdeen-321150465
I really do love Katniss. She's intense and if I were a character in the books I would probably be scared of her. But I love reading her perspective and how she thinks through everything and how fiercely she loves her family and friends - even if they can't always see it.
Beth-
Attachments
by Rainbow Rowell
http://imnot12.tumblr.com/post/73990444646/attachments-is-a-really-cute-book-about-two-really
I didn't realize how much I loved Beth until someone criticized her. She's hilarious, a loyal friend, and okay yes a little bit of a stalker. But her story is cute and I love her.
Celia Bowen-
The Night Circus
by Erin Morgenstern
http://galleryhip.com/the-night-circus-celia-and-marco.html
Ah,
The Night Circus
, how I love thee. This book... there just aren't words to describe my love for this book. I had to give it's main girl Celia a shout-out. She's lovely and elegant and magical.
Scarlett O'Hara-
Gone With the Wind
by Margaret Mitchell
http://akalilith.deviantart.com/art/Scarlett-O-Hara-Vivien-Leigh-83740657
I cannot resist putting this firey Irish Southern belle on this list. I grew up watching
Gone With the Wind
and I read the book when I was in 7th grade. Let's be honest - Scarlett is a bitch. I wouldn't be surprised if she could kill with that single eyebrow raise. But that's what I love about her. She's that wonderful anti-heroine where you want to hate her, but you can't help but root for her.
Elizabeth Bennett-
Pride and Prejudice
by Jane Austen
http://darcy--x--elizabeth.deviantart.com/gallery/
I know Lizzy will be on nearly everyone's lists. But with good reason! She was a strong female character beore that was a thing. She's funny, smart, stubborn, and fantastic.
Queen Eleanor-
Eleanor of Aquitaine
Trilogy by Elizabeth Chadwick
Technically, she Queen Eleanor is a real person. But, she's a prominent character in Elizabeth Chadwicks novels. I first read about her in
The Greatest Knight
and thought she was fabulous. When I heard she would be getting a trilogy of her own, I was over the moon! I love that a historical figure such as she is receiving the recognition she deserves.
Verity-
Code Name Verity
by Elizabeth E. Wein
http://www.inkbitten.com/2013/02/fan-art-code-name-verity.html
I can't say much about Verity without giving away spoilers. But just trust me... you'll love her.
Jo March-
Little Women
by Louisa May Alcott
http://www.deviantart.com/morelikethis/57169552
I love the movie from the 90's and I love the book, and Jo is the sister I always related to the most. She's stubborn, loves writing and telling stories, and can never decide on what she wants to do. Although, I'm pretty sure I wouldn't have turned Laurie down.
Hermione Granger-
Harry Potter
Series by JK Rowling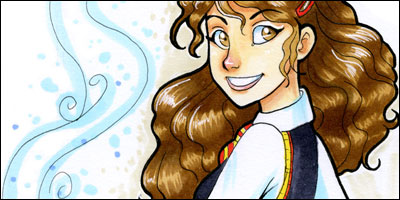 http://fandomania.com/fan-art-friday-hermione-granger/k
You didn't think I'd forget about my girl Hermione, did you? Normally, with lists like these I try to leave out
Harry Potter
because other stories deserve to be in the spotlight too. But... come on! I have to give her a shout-out. If you don't love Hermione, you're wrong.
Linking up with
The Broke and Bookish for Top Ten Tuesday
.