D
o you ever feel like some Mondays are more "Monday-esque" than others. I feel like this has been happening more often now that
The Lizzie Bennett Diaries
are over. Which is a great reflection of my life right there guys. A YouTube series is what determines how my day will go.
H
owever, today I feel is more of a Monday than others. I woke up randomly in the middle of the night and couldn't go back to sleep. I got up earlier than usual and was STILL late for leading chapel at the high school. I then forgot my keys in the high school gym and one of the teachers had to run out to the parking lot to give them to me. When I got back to the office I had to put together ANOTHER chapel at the last minute for the pre-school kids. Also, everyone just seems to be having a "case of the Mondays" in our office.
E
verything is turning out fine, and it will pass as all Mondays do.
A
few quick things before you get too depressed about Monday.
1)
The blog
Story of My Life
is hosting Blog Every Day in May! I really want to try and blog more regularly and several of my blog friends are participating. I feel like this will be a good test for me to see what is realistic for me and a regular blogging schedule. So, starting Wednesday May 1 you can look for a new post from me EVERY DAY! I know you're excited. I even have a ton of drafts scheduled all the way through May 13 for each day at 8am. It's gonna be exciting, yo. She has prompts for everyday which I may or may not use. I'll probably use the ones I like and others for when I'm stuck for a topic. But I'll switch things up and write on my usual topics when they come to my mind. Whatever my "usual" topics are. Which brings me to my next point.
2) I don't have a nich for my blog. Usually this doesn't bother me, but lately it has. I've never liked being labeled in a certain "genre" for this blog. Yet, it's been bothering me that I don't have a focus. I just blog whatever I feel like as though this were a diary. None of you want to read that. I feel like this blog is just like every other one out there, and that's boring. Who wants me to be boring? Not me!
T
herefore, I'm taking suggestions. Are there certain trends you've noticed that are on my blog that I haven't? Anything particular that you enjoy reading about the most? Suggestions of where to go from here?
3) I'm linking up with a few other blogs today! First, it's Mingle Monday with Life of Meg. She hosts this every week and it's a great way to promote your blog and find others.
T
he other one is I <3 27="" a="" and="" are="" bloglovin.="" bloglovin="" followers...="" google="" i="" is="" leaving="" many="" measly="" more="" moving="" need="" onto="" p="" people="" reader="" since="" us="" with="">3>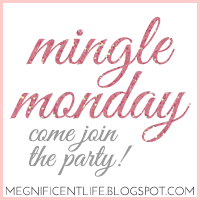 A
nd there you have it. My Monday. I hope everyone else's is more interesting than mine, and I'll see you on Wednesday to kick off Blog Everyday May!