F

or the second time within the last few weeks Lauren Lankford has inspired me. (The other time it was the whole Human Branding thing.) So in case you haven't noticed . . . SHES REALLY GOOD.
This morning one of her posts was featured on a
blog
. I had read this post before, and I remember it hit me really hard. Then when I read it for a second time this morning, it hit me hard once again. She asks the questions:
"What would you still have if you woke up
tomorrow morning with all your possessions gone? What would you do if you were given one suitcase to fill in 10 minutes before you moved 3000 miles away? How would you deal with the material faux-foundation being stripped out from under your feet?"
I

'm one of those people who complains about having too much stuff. This was particularly evident the tree times I've moved while living in Missouri. I remember lamenting to a friend of mine, who was also in the process of moving, about how I had too much stuff.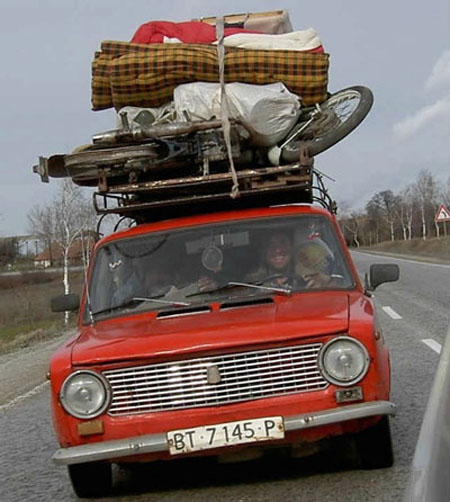 "
W
e're in our 20's! We're supposed to be able to live out of our car because we have nothing! I have enough crap to fill three cars!"
I

think about people all around the country, and the world, and how little they have. I dream about what it would be like to just sell all my possessions, pack a bag, and go off to some city or remote village in another country.
T
he thing is... I never do it.
I

know that owning things is not a bad thing. I mean, King David in the Bible was wealthy and probably had A TON of stuff that he owned, and was called a man after God's own heart. So... possessions in and of themselves are not bad. If you are
privileged
to own a big screen TV, that's OK.
B

ut how often do we cling to these things? Even other possessions that don't appear materialistic? Like books... photographs...instruments...art supplies...[insert your own here].
So here's the scenario

. Wherever you are, whatever you are doing, you need to leave and go somewhere. Anywhere. But it can't be the place you grew up or have lived before. All you can pack is what you can take on an airplane. Check only 1 suitcase (and don't make it the size of a room or something obnoxious), a carry-on suitcase, and a personal item like a book bag or purse. What do you pack?
I

t's a hard question. At first my gut reaction was "Well, first thing I'll do is buy an ipad so I can download everything onto there, including my books." But I feel like that's cheating. So I'll say that you can only use what you already own, and be creative with it.
S

o during my lunch hour I went home and played out this scenario. I got out my suitcase and the book bag I normally use for traveling. Here is what I would pack:
I was so proud of Bandit! I didn't even have to tell him to get on the bed.
It's a good thing airlines let you take small dogs if they are in a cage or dog purse.
Close up of some stuff towards the end of my bed.
The things that you will find in this pile are:
Various items of clothing
: 5 tank tops, 5 t-shirts, 4 nicer shirts, 2 pairs of jeans, 1 pair of sweatpants, 1 pair of black pants, 3 pairs of shoes, 1 dress, 2 sweaters, and my Concordia hoodie. Also, some jewelry that includes my grandma's 2 rings and my high school class ring. These clothes MIGHT last for about 2 weeks without doing laundry.
A few everyday stuff:
My laptop, ipod, camera, cell phone, wallet, scarf, coat, and blanket.
Sentimental things:
1 photo album that contain my all time favorite pictures, Broadway music book, Molly my American Girl dolll, a Bible, my journal, and only 2 books, and my baby's first Christmas ornament.
Then OF COURSE, my dog Bandit
. On airplanes you are allowed a carry-on and a personal item. Bandit in his dog purse would be one of those. I would throw his leash and a couple of toys into is bag and keep a baggie of dog food with me in my carry-on.
It
's weird. When I put everything on the bed it kinda seemed like a lot of stuff still. Then, when I looked around my room, my closet, living room, kitchen, bathroom, etc... I had barely made a dent.
A
nother weird/funny thing... one of the hardest choices would leaving ALL my books behind. Yes, even Harry Potter would be left behind. I decided that if I were to bring one book, I would have to bring them all. And it just wouldn't be possible.
G
ranted, this was all hypothetical. I am not packing up and leaving anytime soon. But it's interesting to think about. There would be a lot of items that I would miss. It makes me realize how materialistic I can be at times. If I actually had to make those choices for real, I don't know how I would be able to handle it.
What would you pack? What would you leave behind? How would you handle it? Do you think you could live with so little?