August is two weeks away. Can you believe July is half over? It's crazy pants!
But you know what it means, right?
VEDA IS COMING!
What is VEDA you ask?
It is Vlog Every Day August. A bunch of people on the Internet get together, brainstorm topic ideas, and then in August we film videos based on those topics every day and comment on each others videos. For the second year,
Kirsti
and I are teaming up to coordinate the WeBlogWeVlog VEDA and this year we are joined by
Nico
and
Katherine.
We've been emailing back and forth planning and plotting and sharing ideas. We have A LOT of thoughts for this year.
I first started doing VEDA a few years ago and it's how I got into vlogging and YouTube and it's so much fun. I've made a ton of friends during it I can't wait to see who joins us this year.
If you've thought about vlogging, VEDA is a great place to start because you have topics given out and a bunch of people who are right there to watch your videos.
To sign up,
click here!
Next week, we'll be getting a Google Doc ready so participants can all brainstorm what topics we want to discuss in August, then we'll also be posting a participant list so we all can find each others YouTube channels and Twitter accounts to subscribe and follow. Also be sure to follow
WeBlogWeVlog on Twitter
for more updates.
It's going to be totally awesome!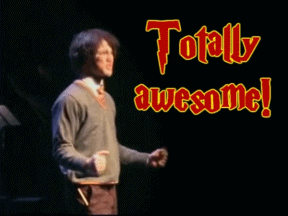 Aw, it's been awhile since I've made
A Very Potter MUsical
reference and used a GIF for them. My heart is happy.
So... go sign up!
And yes, I realize this whole blog post was a shameless plug/ad for VEDA. But I didn't have any other ideas for this week. SUE ME.