And another Christmas has come and gone. The gifts are unwrapped, the feast was eaten, the movies watched, and the carols sung. Technically, yesterday was only the start of the 12 days of Christmas. Today is two turtle doves. Tomorrow I'm going to Indiana to see my family and have another small Christmas gathering. So, at least there's that. But, the day after Christmas I can't help but feel a small loss at how quickly the season passed.
Now, we move onto looking toward 2015. Which means... it's time for me to look back at all of the books I read in 2014! It's End of Year Book Wrap Up Time!
Last year I tried to make this a link up - but I failed horribly and something got all messed up with the link stuff. Boo. Besides, a lot of bloggers I follow have already done their book wrap ups for the year. However, if you haven't done one yet, feel free to use my questions and let me know in the comments if you posted your answers on your blog! I'd love to read them!
I was also going to make this as a video. But, after making videos for 25 days straight I just don't have the heart to do it. Maybe in a couple of days I'll post a video to YouTube.
Anyways. Onto the wrap up!
And if you aren't much of a reader - feel free to adapt this survey for movies, TV shows, music, etc.
1) How many books have you read this year?
My goal for 2014 was to read 60 books and I read 72!!!!!!
72!
That's just crazy.
2) What book surprised you the most?
We Were Liars
by E. Lockhart. I had heard from a lot of people this book was amazing. That it was SO GOOD! But I didn't know anything about it. I couldn't find out what the heck this book was about! The only thing I kept hearing was how amazing it was. So... I picked it up from the library with my doubts.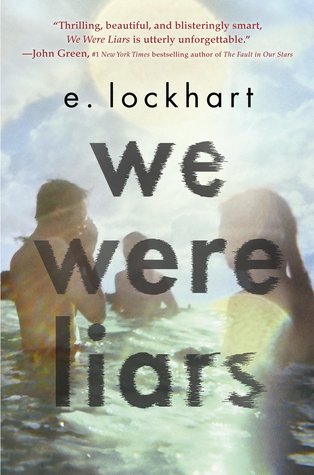 YOU GUYS THIS BOOK.
And I'm going to do to you what everyone else did to me and not tell you anything about it.
Just... trust me on this one. Part of the amazingness of this book is the fact you don't know anything. I ended up finishing half of this book all at once and staying up far too late one night until I got to the end and sat up in my bed all "OMG WHAT DID I JUST READ?"
It's fabulous. Trust me.
3) What book were you the most disappointed in?
The Vanishing Act
by Mette Jakobsen. One of my favorite authors, Erin Morgenstern, had reviewed this book on her blog and had a quote about it on the cover. I've never seen her put any reviews on her blog ever and this was one GLOWING. Naturally, I had to pick it up.
So diaspointing. The writing style was very sweet, mysterious, and lyrical. It made sense why Erin Morgenstern liked it because it slightly reminded me of her. The characters were also very sweet.
But nothing happened. I kept waiting for something to happen - and it never did.
4) Did you start any new series?
Naturally! What's a year of reading 72 books without starting up any new series?
The Maze Runner
series by James Dashner*
The Dresden Files
by Jim Butcher*
The Ministry of Peculiar Occurrences
by Pip Ballentine and Tee Morris*
Throne of Glass
by Sarah J Maas*
Daughter of Smoke and Bone Trilogy
Laini Taylor*
Kate Daniels
by Ilona Andrews
Lux
by Jennifer L Armentraut*
Magnificent Devices
by Shelly Adina
Queen Elinor of Aquitaine Trilogy
by Elizabeth Chadwick*
Across the Universe
by Beth Revis
French Twist
by Sandra Byrd
The Maledection Trilogy
by Danielle L Jenson
Finishing School
by Gail Carriger
Miss Peregine's Home for Peculiar Children
by Ransom Riggs
Allie's War
by JC Andrijeski
V
by Joanna Wiebe
Brooklyn Girls
by Gemma Burgess
* = favorites
5) Did you finish any series?
But of course! Some of them I had even started and completed in 2014.
His Fair Assassin
Trilogy by Robin LaFevers
Daughter of Smoke and Bone
Trilogy by Laini Taylor
Anna and the French Kiss
Trilogy by Stephanie Perkins
The Maze Runner
series by James Dashner
The Mortal Instruments
by Cassandra Clare
The Infernal Devices
by Cassandra Clare
6) What was your favorite book cover this year?
I wasn't completely blown away by book covers this year. There were some good ones, but not a whole lot where I looked at them and was like "wow - that's gorgeous." That being said, I do love the cover of the book I'm reading now,
Winterspell
by Claire Legrand. The picture below doesn't do it justice. It's all shiny and wintery. Then, the actual cover cover (not just the book jacket) is this beautiful winter white with ice blue lettering. So pretty!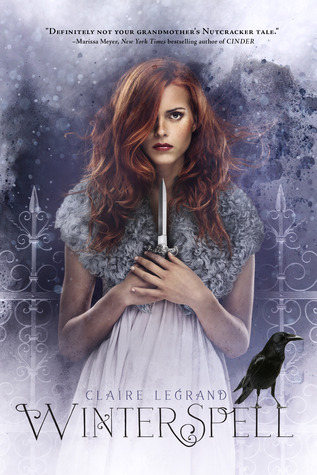 7) What was the best non-fiction book you read?
I only read three non-fiction books this year and all were so different from each other, but also so fantastic.
Never Have I Ever... My Life So Far Without a Date
by Katie Heaney,
Behind the Beautiful Forevers
by Katherine Boo, and
Choose Your Own Autobiography
by Neil Patrick Harris. All three were so fantastic!
Never Have I Ever
was hilarious and so relateable. I swear, the author of this book has been stalking me because our love lives (or in our cases... non existent love lives) are basically the same thing. Right down to being in Jr. High loving JTT but dumping him for Justin Timberlake when NSYNC rolled around.
Behind the Beautiful Forevers
is a book chronicling the lives of people in a slum of India. If you have a passion for learning about the world, social justice, and wanting to truly help people, you need to read this book. It's so eye opening and truly reveals what it's really like for the people in these areas and gives you a better understanding of the corruption and how complicated things truly are.
Choose Your Own Autobiography
was hilarious. I loved the fake endings NPH would have for different parts of his life, and learning about who he is and how he got to be where he is now. But he also includes photos (or audio clips of him as a kid and such if you have the audio book), recipes, and magic tricks!
8) What are you currently reading?
Right now I'm working on
Winter Spell
by ... and
Jane Eyre
by Charlotte Bronte. I'm also working on re-reading
The Fault in Our Stars
by John Green for my Facebook book club!
9) Any reading goals for 2015?
I'm going to shoot for 70. I know I read 72 this year, but I also know my schedule changes like crazy and if I get another job in 2015 it'll change again. So I want to keep up with what I've already done.
I also found this reading challenge on Pinterest for 2015 and I think it would be fun to tackle it!
10) What books are you looking forward to in 2014?
I honestly don't know. I looked up books being released in 2014 and there weren't a whole lot I was really excited about. But I am OUTRAGEOUSLY excited for
Winter
and
Fairest
by Marissa Meyer. It's the conclusion of
The Lunar Chronicles
and they are so good! I can't wait to see how it turns out!
11) What books deserve a shout out?
These are all of the books on Goodreads I gave five stars to and haven't mentioned yet that I just had to share because they're all so wonderful!
The Ministry of Peculiar Occurrences
Series
by Pip Ballentine and Tee Morris
AD 30
by Ted Dekker
We Were Liars
by E Lockhart
The Dresden Files
by Jim Butcher
The Summer Queen
by Elizabeth Chadwick
The Giver
by Lowis Lowry
City of Heavenly Fire
by Cassandra Clare
Isla and the Happily Ever After
by Stephanie Perkins
Cress
by Marissa Meyer
12) Your top 5 books of 2014.
Gah! Why is this always so hard? I had to expand it to five books this year because I kept changing my mind and couldn't narrow it down to only five. Even now I'm looking back at other books all "But that one was so good too!" But I can't go beyond five books because then I'll just never stop!
How I Paid for College by Marc Acito
If you've been around these parts for awhile you know I've been talking about this book all year. It's just so hilarious and fun and clever. The main character, Edward Zanini is basically if Ferris Bueller and Rachel Berry got together and had a love child. JUST IMAGINE THAT.
Mortal Heart by Robin LaFevers
This really is a shout out for the entire His Fair Assassin Trilogy but this really was the perfect conclusion to the trilogy. I found I could relate to Annith the most out of all of the girls and I loved her journey.
Attachments by Rainbow Rowell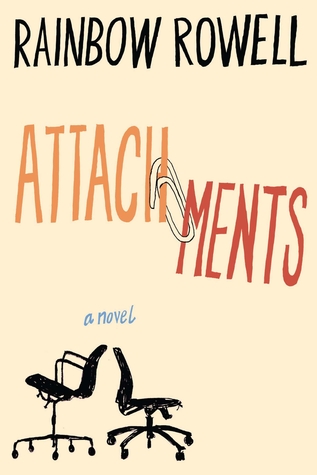 As always, Rainbow Rowell's stories are so stinking cute! This was her first novel before she got crazy popular and I swear it is one of my favorites by her. The best way I can describe it is Sleepless in Seattle BUT CUTER and less creepy, but then add some quarter life crisis and self discovery in there. I loved it!
Clockwork Princess by Cassandra Clare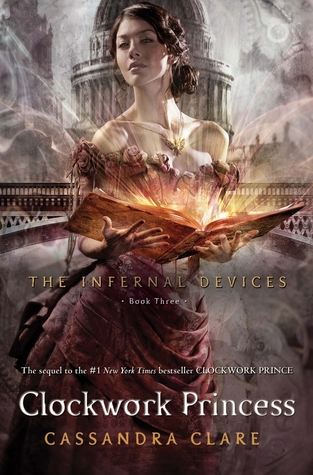 Dare I say it? I enjoyed The Infernal Devices more than The Mortal Instruments. Not that I don't like TMI, I do. But I feel like this spin off trilogy was so much more well done. It's also what got me interested in TMI in the first place because I had seen these books on the shelves but when I saw they were prequels to another series I decided to hold off until I was caught up. So good! This was a fantastic conclusion and one of my favorite parts of City of Heavenly Fire was seeing the characters from this trilogy pop up.
Daughter of Smoke and Bone Trilogy by Laini Taylor
I read the whole trilogy this year and there was no way I could only pick one. It's so unique and beautifully written and there's these wonderful and fantastic characters and creatures and world... it's beautiful. I can't say much at all without spoiling things because letting it all unfold is part of what's so awesome about this trilogy. So all I can say is you need to go read it if you haven't yet.